Ilgoyo
—
Employing delightful illustrations to promote good reading habits.
Client
---
Personal Project 2019

My Focus

---
Research
Wireframing
Branding
Illustration
Notes
---
Pen + Paper, Figma, Procreate
80 Hours

I read multiple digital articles a day, but am rarely able to recall what I have read and where I read it. I wanted to design an application that reduces recall failures and encourages people to read more. Ilgoyo let's users collect content while promoting balanced, intentional reading habits.
Problem
---
Design a platform that affords users the ability to collect and consolidate content from various outlets and easily organize it according to personal preferences.

Solution
---
An application that delights users with light-hearted illustrations and promotes healthy digital consumption habits while meeting personal needs.
I identified three major types of short-form digital reading applications: content creators (e.g. New York Times and personal blogs), content aggregates (e.g. Apple News and Pocket), and content creator-aggregates (e.g. Medium).
The greatest weakness across all is the ability to
refer back to content and add notes that later help people recall information.
Short-form reading apps do not promote habit forming like long-form applications (e.g. Apple Books) do.
Primary User Needs
---
To save/share content from and to a variety of outlets.
To organize/search articles, authors, and notes.
To keep track of reading patterns and unread content.
As a web clipper application, the user experience would greatly impacted by the user's current reading patterns and the interaction with both digital devices and various content outlets. This lead me to create a user journey that placed Ilgoyo in contrast with existing tools and explored what it would mean for Ilgoyo to convert customers.

Although the user journey is quite simple, it helped me to understand how Ilgoyo functions differently from other content aggregates like Pocket. Specifically, that by focusing on personal needs, not just reading needs, Ilgoyo distinguishes itself.
After working through a few sketches and notes to solve general structural challenges, I digitized my wireframes in Figma.
At this point, my focus was on utility and legibility, because Ilgoyo is first and foremost a reading application.
When focusing on the profile page, I realized I needed a better understanding of what types of metrics individuals were looking for.
I conducted short interviews to gauge user reactions to different types of tracking and visualization. Interviewees were prompted to evaluate the following two designs:
In the process, I realized that I needed to be careful to avoid the pitfall of digital fatigue. Users like the idea of seeing their progress but want do not want another app set on optimizing personal habits.
Users had a preference for simpler, "at-a-glance" data.

Longevity views were fine in small doses, but not as a default.
Progress bars were preferred to larger circular progress charts.

I wanted to create a visual identity that reflected why people were reading: discovery and pleasure.
This would help distinguish Ilgoyo from other reading apps that recall print media and seriousness.
Using this message as a guiding princple I created a brand identity that was positive, light-hearted, and intentional.
By balancing a bright palette with a robust font, I hoped to establish a place between intentionality and positivity; print material and digital content; discovery and pleasure.
Traditionally, print sources usually employed a memorable wordmark. I opted to continue this trend but wanted to refresh the traditional form of a wordmark. I made it lower case, gave it some texture and color, and placed it in front of simple line drawings.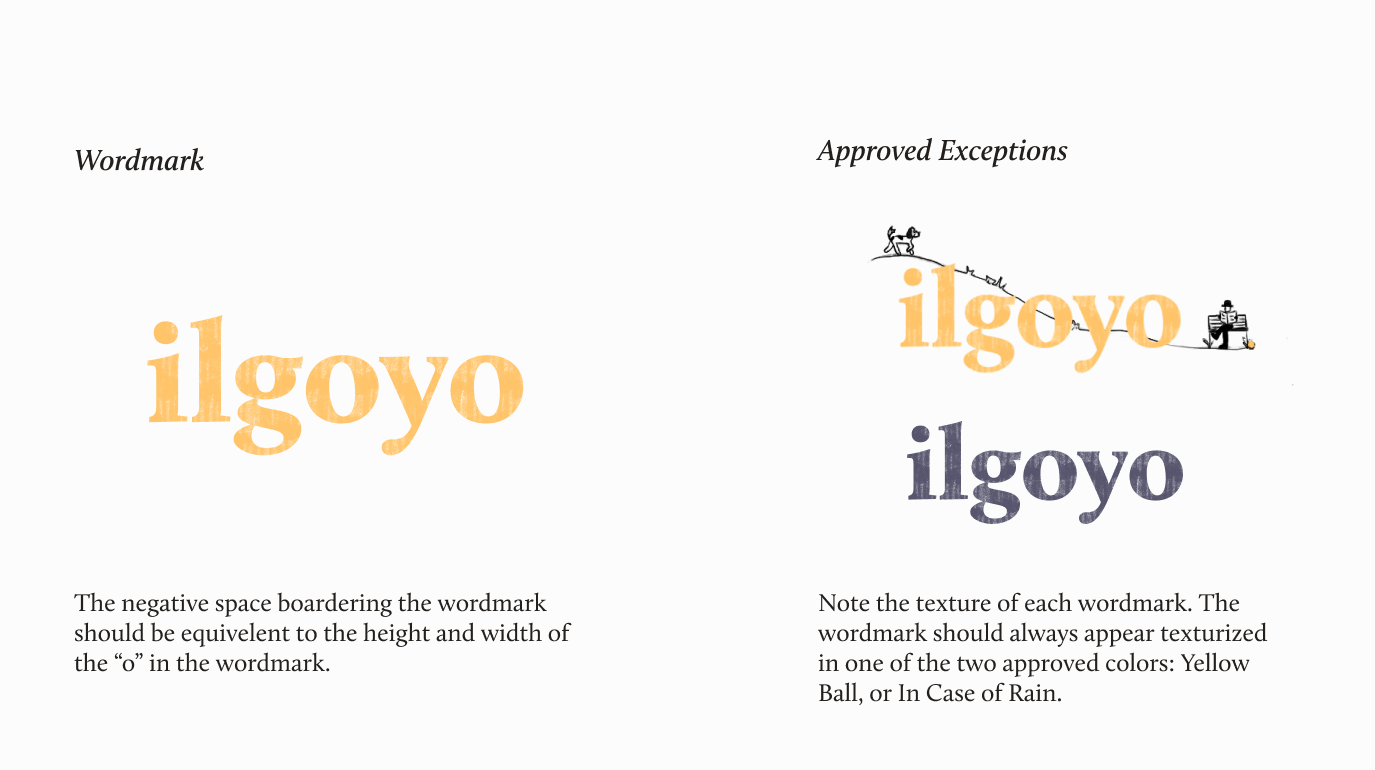 I also created a brand mascot that would delight users and provide relief from the text-heavy content.
I went through various iterations to find a print-inspired drawing style that wouble be a playful counterpart to the textual elements.

The final UI was implemented to employ brand aesthetics as a means to highlight solutions for user pain points.
I attempted to answer the user's functional needs in a delightful way that married the brand with concept without placing pressure on the user.